Seriously Made Bagels
Our bagels are steamed for a lighter texture with a full-flavoured taste. All bagels come toasted with condiments of your choice:
Almond Butter
Nutella
Freeze dried berries
Creamy cream cheese
Butter
Sesame $4.50
Vegemite $4.50
Seedy grain $4.50
Blueberry $5.50
Rye $4.50
Gluten Free $5.50
Schmucks Breakfast
Bagels
Nutty Monkey – $8.00
Blueberry bagel, nutella hazelnut, banana slices, almonds
Stru Blue $8.50
Apple strudel, creamy cream cheese, buckwheat crumb on blueberry
PB & J $7.50
Toasted blueberry bagel, peanut butter and raspberry jelly
BEBB $8.00
Bacon & egg, tonkatsu and iceberg on sesame
SEBB $8.00
Sausage & egg, Kewpie mayo and iceberg on sesame
Avo Our Way $8.50
Smashed avocado, lemon, pickled red onion, capers, herbs on seedy grain
Jars
Apple Bircher $5.50
with Goji, toasted seeds & nuts
Fruit Salad $6.50
with passionfruit yoghurt & dried berries
Buckwheat Granola $6.50
with coconut yoghurt & almond milk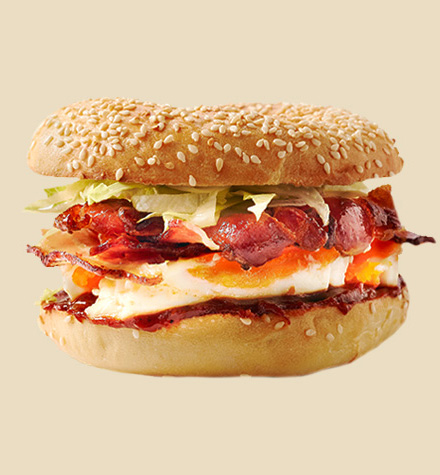 All-day Bagels
Fiery Chick – $13.50
Crumbed free range chicken breast, harissa slaw, cheese, kewpie, sweet & fiery chilly sauce on sesame
Polish Hot Brown $12.00
Turkey breast, hickory smoked bacon, kewpie, tomato, melted cheese and iceberg on rye bagel.
Schmuck Monsieur Bagel $8.50
Shaved double smoked leg ham, melted cheese and kewpie mayo on sesame bagel.
Hippie-Slicker $9.00
Tumeric roasted cauliflower, hummus, watercress, tomato, lemon on seedy grain
Oy Vey $11.00
Slow-braised pulled pork, harissa slaw, tonkatsu, crackling salt on seedy grain
Miso Schmick Tuna $11.50
Miso line caught tuna, wasabi peas, kewpie mayo, pickled ginger, pea-shoots, iceberg lettuce on sesame
Salt'n'Sauer $11.00
Thick-cut salted beef, house piccalilli, dijon mustard dressing, sauerkraut on rye
Luv u Lox $12.00
Smoked salmon, creamy cream cheese, pickled red onion, cress, lemon on rye
Schmoozer $11.50
Hickory-smoked beef brisket, Kansas city BBQ sauce, chimichurri, iceberg lettuce on seedy grain
Smokin' Chick $11.00
Free range smoked chicken, tarragon mayo, cornichons, capers, pickled carrots on sesame
Sides
Crisps – McClure's $4.50
Garlic dill pickle
Spicy pickle
Bloody Mary
Protein Balls – Health Lab $4.00
Peanut butter - Recover
Chocolate - Energize
Almond - The 3pm
McClure's Pickles – Jar $18.00
Spicy (small whole pickles)
Garlic & Dill (spears)
Quenchers
Impressed Cold Press Juices $5.00
Glow-J, Ginger Ninja, Unearthed, Summer Greens
Capi $3.50
Cranberry, Blood Orange, Lemon, Mineral Water
C Coconut Water $3.50

Boxed Water $3.50

Coke + Coke Zero 330ml/600ml $3.50/$4.50

Hot Drinks
Allpress Coffee – Carmelo Blend
Medium roast, lively and full bodied with distinct caramel flavours
Espresso $2.80
Dbl $3.30
Sml $3.80
Lrg $4.30
Almond Milk Co / Bonsoy +50c
Hot Choc Sml/Lrg $4.00/$4.50

Chamellia, Organic Tea $4.50
English Breakfast, Earl Grey, Chamomile, Peppermint & Gunpowder Green
Prana Chai $5.00
(Only the good stuff)
Catering
Schmucks Bagel Boxes offer a selection of sweet & savoury goodness. Enjoy mini bagels (7cm) stuffed with seasonal & local fillings, all beautifully presented in our custom bagel box to bring a schmirk to your face. Feeds 4 to 6 guests for a grazing breakfast or lunch.
Menu