Seriously Made Bagels
Our bagels are steamed for a lighter texture with a full-flavoured taste. All bagels come toasted with condiments of your choice:
Almond Butter
Nutella
Freeze dried berries
Creamy cream cheese
Butter
Sesame
Vegemite
Seedy grain
Blueberry
Rye
Gluten Free
Schmucks Breakfast
Bagels
Morning Sunshine
Pastrami & egg, melted cheese, dijon mustard, chilli mayo on sesame
Nutty Monkey
Blueberry bagel, nutella hazelnut, banana slices, almonds
Stru Blue
Apple strudel, creamy cream cheese, buckwheat crumb on blueberry
PB & J
Toasted blueberry bagel, peanut butter and raspberry jelly
BEBB
Bacon & egg, tonkatsu and iceberg on sesame
SEBB
Sausage & egg, Kewpie mayo and iceberg on sesame
Avo Our Way
Smashed avocado, lemon, pickled red onion, capers, herbs on seedy grain
Jars
Fruit Salad
with passionfruit yoghurt & dried berries
Buckwheat Granola
with coconut yoghurt & almond milk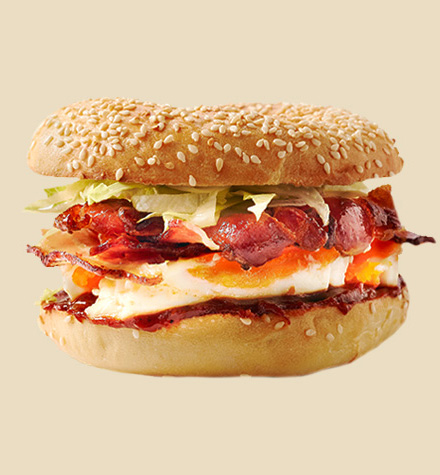 All-day Bagels
Truffle Pepperoni
Mild smoked salami, truffle cheese, McClure's pickle, chilli kewpie, mixed lettuce on sesame
The Truffler
Crumbed free-range chicken breast, truffle cheese, kewpie, harissa slaw, McClure's pickle, fiery chilli sauce on sesame
Fiery Chick
Crumbed free range chicken breast, harissa slaw, cheese, kewpie, sweet & fiery chilly sauce on sesame
Polish Hot Brown
Turkey breast, hickory smoked bacon, kewpie, tomato, melted cheese and iceberg on rye bagel.
Schmuck Monsieur Bagel
Shaved double smoked leg ham, melted cheese and kewpie mayo on sesame bagel.
Hippie-Slicker
Tumeric roasted cauliflower, hummus, watercress, tomato, lemon on seedy grain
Oy Vey
Slow-braised pulled pork, harissa slaw, tonkatsu, crackling salt on seedy grain
Miso Schmick Tuna
Miso line caught tuna, wasabi peas, kewpie mayo, pickled ginger, pea-shoots, iceberg lettuce on sesame
Salt'n'Sauer
Thick-cut salted beef, house piccalilli, dijon mustard dressing, sauerkraut on rye
Luv u Lox
Smoked salmon, creamy cream cheese, pickled red onion, cress, lemon on rye
Sides
Protein Balls – Health Lab
Peanut butter - Recover
Chocolate - Energize
Almond - The 3pm
McClure's Pickles – Jar
Spicy (small whole pickles)
Garlic & Dill (spears)
Quenchers
Impressed Cold Press Juices
Glow-J, Ginger Ninja, Unearthed, Summer Greens
Capi
Cranberry, Blood Orange, Lemon, Mineral Water
Coconut Water

Boxed Water

Coke + Coke Zero 330ml/600ml

Hot Drinks
Dukes Espresso
Balanced, full bodied and complex. Vibrant, red apple, caramel, milk chocolate, and cherry.
Hot Choc

Chamellia, Organic Tea
English Breakfast, Earl Grey, Chamomile, Peppermint & Gunpowder Green
Prana Chai
(Only the good stuff)
Catering
Schmucks Bagel Boxes offer a selection of sweet & savoury goodness. Enjoy mini bagels (7cm) stuffed with seasonal & local fillings, all beautifully presented in our custom bagel box to bring a schmirk to your face. Feeds 4 to 6 guests for a grazing breakfast or lunch.
Menu